The Center for Creativity is a hub for the creativity community… cultivating, inspiring, and championing the creativity in all of us.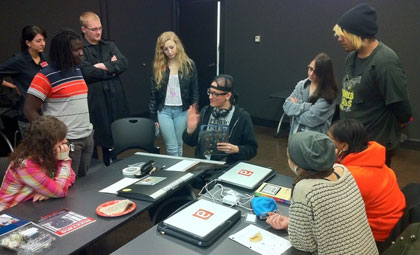 Center for Creativity is laboratory for our schools, a resource for our families, and a dynamic space for businesses to cultivate one of our most important human resources, creativity. Here are just a few of the ways we're partnering to build the creative community in Columbus.
Connector Series
The Center for Creativity partners with some of the most provocative creators in central Ohio to engage visitors of any age in surprising participatory environments. Connector Series events take place on the second Saturday of every month. Visit to see what's in store for the next event.
CMA Photo Hunts
CMA Photo Hunts are a unique way of fostering the growing mobile photography community with inspiration from our exhibitions and collections. With our first CMA Photo Hunt exhibition last fall (inspired by our critically acclaimed The Radical Camera exhibition), we were first museum in the world to present a curated, crowdsourced installation based on the popular photo sharing app Instagram. Since our Photo Hunts began in 2012, we have received thousands of submissions from hundreds of photographers from Seattle to Ohio to Paris to Russia. View the CMA Photo Hunt Gallery and our blog to see how you can participate in current CMA Photo Hunts.
Graphic Novelist Residency
CMA's Center for Creativity partners with Thurber House to host the annual Graphic Novelist Residency. The three-week residency is designed to provide a graphic artist/writer with an opportunity to develop a work-in-progress and to exhibit work at Columbus Museum of Art. The recipient receives a stipend and housing in the two-bedroom apartment located in the boyhood home of author and New Yorker cartoonist James Thurber.
Previous recipients of the residency include Paul Hornschemeier in 2012, Ed Piskor in 2013, and Lilli Carré in 2014.
Think Outside the Brick
CMA's Center for Creativity celebrates the creative exploration of LEGO® brand building blocks with an annual exhibition, building competition, and other events. In 2012 and 2013 we participated in artist Jan Vormann's Dispatchworks project.
Universitas
The Center for Creativity serves as host to monthly meetings of Universitas, an informal collective dedicated to developing the creative and innovative potential of Columbus. Visit to find the next meeting.
Game Show
The Game Show program served to provide an informal, participatory platform for all to engage in creative thought and action. Art collectives, performance groups, businesses, and other organizations cooperated to create Game Show. The collaborative effort served to build and strengthen relationships among creative thinkers in Columbus, and to demonstrate the vitality of Columbus as a creative city.
Game Show collaborators have included Fake Bacon Improv, TradeMark Gunderson, The Asbestos Crew, Junctionview Studios, Adam Brouillette, The Ohio Roller Girls, [redacted], and OpenHeart Creatures.
TEEN Programs
SURGE Teen Open Studio – Every Thursday Night
Columbus teens are welcome to join us for this weekly drop-in program that includes pop up events in the Studio and Innovation Lab, experimenting with technology and art supplies, and just hanging out. SURGE is a collaboration between CMA, Columbus Metropolitan Library, Wexner Center for the Arts, WOSU Public Media, and COSI and is made possible by a grant from Battelle Memorial Institute. For more info contact Morgan Anderson 614.629.5943 or morgan.anderson@cmaohio.org.
Social Sundays
These events and projects are designed and produced by CMA's teen community in collaboration with visiting artists, community partners and museum educators. The events take the form of performances, exhibitions, hands-on workshops and happenings. Visiting professional artists and artist collectives are brought in to conduct workshops with teens, critique their work and to help develop their ideas.
Made possible supported by JPMorgan Chase Foundation