In the Center for Creativity in the Columbus Museum of Art, we believe that creativity is for everyone. It can live within anyone, and take on any form. This is where creativity is fostered. Cultivated. Championed. Celebrated.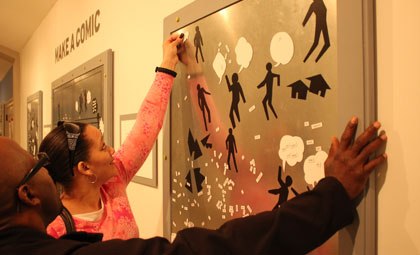 ---
The Center for Creativity (CfC) is a catalyst – a jumping off point for individuals and groups to discover and explore their unique connections to creativity. Through captivating spaces, engaging experiences and programs and dynamic services and resources, we invite people of all ages to participate in activities that nurture creative thinking and doing: observing, questioning, experimenting, analyzing, reflecting, and playing.
The CfC is an initiative of the Columbus Museum of Art and is the way the institution fulfills its fifth institutional value, CREATIVITY. The 18,000-sqaure-foot CfC is a hub for Museum experiences that foster imagination, critical thinking, and innovation. The CfC will provide myriad experiences that engage CMA visitors with art and with each other, model the creative process, highlight examples of creativity in action, and underscore the importance of creativity in our community.
The Columbus Museum of Art has 5 Core Values: Community, Integrity, Advocacy, Quality, and Creativity. The Center for Creativity is the visual manifestation of our value as well as the guiding direction around our learning outcomes.

---
We believe that creativity is for everyone.
We Believe: We are ALL Creative
Our world changes around us every day. Developing our creativity will help to provide us with the essential skills that we need to keep up with the present and become innovators in the future. Risk taking, problem solving, questioning, deep thinking, and harnessing multiple perspectives will be the tools of tomorrow. Developing our creativity will impact every facet of our lives – from our families and communities to our schools and businesses. Infusing creativity into our lives transforms us into visionaries who create new perspectives, new solutions, and even new worlds.