2007 Exhibitions
Still I Rise

January 26 – April 29, 2007
Edna Boies Hopkins: Strong in Character, Colorful in Expression

December 14, 2007 – March 2, 2008
Edna Boies Hopkins was trained at the Art Academy of Cincinnati, with Arthur Wesley Dow in New York City, and became a color woodblock print maker of great sophistication. Edna moved to Paris in 1905, where she lived as an expatriate until the outbreak of World War I. Her success as a creator of floral studies and compositions grew rapidly, and her works appeared in numerous important collections. Edna's international reputation became firmly established until her career was cut short by severe arthritis while she was in her early fifties.
This exhibition of fifty color woodblock prints covers Edna Boies Hopkins entire career and features her best-known subjects: floral compositions, figural works, especially those produced in Appalachia, and landscapes made in Provincetown, Massachusetts.
This exhibition will travel to the Springfield (OH) Museum of Art March 15 – June 1, 2008 and to the Provincetown (MA) Art Association and Museum June – August, 2008.
---
Along Water Street: New Work by Aminah Brenda Lynn Robinson

July 6, 2007 – February 24, 2008
This summer, learn from Columbus artist Aminah Brenda Lynn Robinson as she weaves the tale of the community that bordered the Scioto River in downtown Columbus before the monumental 1913 flood. Along Water Street is a new body of work by this renowned local artist. Richly layered, these works represent the stories Aminah carefully absorbed from her Uncle Alvin over a period of almost fifty years, from the time she was three years old in 1943 to her uncle's death in 1990. Combining rags, buttons, shells, other found objects, pen and ink, and paint on paper, Aminah's works are as complex and intricate as the stories she relates.

---
Han Xin: Giverny Revisited

Through January 20, 2008
This exhibition showcases a local connection to the international In Monet's Garden. The exhibition presents paintings on the theme of Giverny by Han Xin, a Chinese-born painter who formerly lived in Columbus. Han Xin was an artist-in-residence at Giverny in 1989. During this time, he painted his interpretations of the gardens, often from the same vantage point as Monet. Han Xin's Giverny scenes are in public collections internationally as well as numerous private collections in central Ohio.
---
In Monet's Garden: The Lure of Giverny

October 12, 2007 – January 20, 2008
Columbus Museum of Art announces the third in our series of exhibitions inspired by works in our collection: In Monet's Garden: The Lure of Giverny. This autumn, immerse yourself in the legacy of Monet's breathtaking gardens at Giverny. Come discover why famed Impressionist Claude Monet and generations of artists thereafter have been enchanted by the sun-dappled, tranquil beauty of Giverny. Featuring one dozen paintings by Monet, including one of his celebrated Water Lilies, this exhibition also highlights works by American Impressionists and contemporary American artists. Columbus and Paris are the sole venues for this stunning show.
Visit the exhibition microsite »
---
Maya Lin: Topographic Landscape

Through January 6, 2008
Don't miss the reinstallation of Maya Lin's Topographic Landscape. Inspired by Lin's experiences in the gently rolling hills of Athens, Ohio, where her parents settled after emigrating from China in the 1950s, this work provides a direct physical experience while simultaneously inviting us to imagine ourselves suspended above an infinite series of rolling hills.
---
Stories from the Somali Diaspora: Photographs by Abdi Roble

September 9 – November 25, 2007
For fifteen years, Somali-born photographer Abdi Roble has been documenting the forced dispersal of the Somali population from their traditional homeland. This exhibition presents fifty-five black-and-white images that document the transition of Somali communities from Africa to the United States, from refugee status to becoming an integral part of American society. Included are photographs taken in Minneapolis, Minnesota; Columbus, Ohio; and Maine – home to three of the larger Somali communities in the U.S. Several photographs trace one family's journey from the Dadaab refugee camp in Kenya to their arrival in California and subsequent resettlement in Maine.
---
Currents: Evan Penny

May 11 – September 2, 2007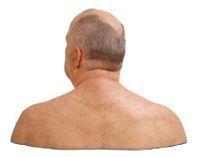 Toronto sculptor Evan Penny creates hyperrealistic figural sculptures of unnatural proportions. Enlarged, stretched, and skewed, his manipulated portraits inhabit the fluid dimensions of the virtual world. Penny expands upon the legacy of superreal sculpture, beginning in the 1960s with Duane Hanson and John D'Andrea and revived by recent artists such as Ron Mueck and Maurizio Cattelan. Unlike his predecessors and contemporaries, Penny's work calls the act of vision into question, distorting the viewer's own sense of spatial perception. Penny's highly illusionistic works appear to result from 3-D body scanning and digital distortion of real subjects. They are, in fact, imagined portraits handcrafted without the use of computer technology. The precise modeling, pigmented silicone skin, and natural hair fibers impart Penny's non-people with an eerie presence. Even at twice to ten times life-size, they have the uncanny appearance of living subjects. Penny's figures build upon the tradition of portraiture within the historical collection. More importantly, the perceptual dynamics of the work signals the current cultural moment in which space, time and the body are reconsidered as malleable and reconfigurable by new technologies.
Photo: Back of Kelly, variation 1, 2005. Silicone, hair, pigment, and aluminum. 33 x 24 1Z2 x 6 inches. Collection of the Columbus Museum of Art; Museum purchase with funds provided by Nancy and Dave Gill and Neil K. Rector.
---
OPTIC NERVE: Perceptual Art of the 1960s

February 16 – June 17, 2007
The first major museum survey in the United States of Op Art in more than twenty-five years, OPTIC NERVE will provide a valuable historical overview and critical reassessment of this influential movement. The exhibition will explore the dynamic abstractions of Op Art, which stimulate diverse visual, psychological, and physiological responses, in the context of the shifting scientific, cultural, and aesthetic values of the 1960s. Showcasing the work of more than fifty international artists, OPTIC NERVE will examine the central role played by American painters, particularly Polish-born, Cleveland artist Julian Stanczak, whose 1964 exhibition Optical Paintings provided the movement with its name. Other key figures discussed in depth include Josef Albers, Richard Anuszkiewicz, Larry Poons, Bridget Riley, Jesus Rafael Soto, Frank Stella, Tadasky, and Victor Vasarely. In addition to painting, sculpture, and electronic media, OPTIC NERVE will include fashion and design objects that illustrate the movement's influence on popular culture of the period.
---
Harri Kallio – Dodo and Mauritius Island – Imaginary Encounters

January 26 – May 27, 2007
Finnish photographer Harri Kallio brings the famed, extinct Dodo back to life in this exhibition of some thirty large-scale color works. Prior to extinction in the seventeenth century, the Dodo thrived in its unspoiled, Edenic home on the island of Mauritius. In Imaginary Encounters the Dodo appears alive and well as it meanders through lush landscape, near rivers, and on mountains, either in pairs or in flocks. With a deft hand and high-tech wizardry, Kallio creates the illusion that these fascinating, comical creatures still roam the world. The photographs, some in panoramic scale to mimic expansive island vistas, are accompanied by a full history of the Dodo, complete with eyewitness accounts.
---
Still I Rise

January 26 – April 29, 2007
Still I Rise: African American Art from the Collection, which is titled after a famed poem by Maya Angelou, is comprised of paintings, photographs, drawings, and prints from the Museum's permanent collection. This exhibition is presented in celebration of Black History Month and features modern masters such as Jacob Lawrence and Romare Bearden alongside contemporary artists like Kerry James Marshall, Carrie Mae Weems, Kehinde Wiley, and local favorite Gilda Edwards.
---
On View at the Riffe Gallery
Far, Near, Here: Selections from the Collection of the Columbus Museum of Art

January 25 – April 15, 2007

Curated by Karen Shirley and Michael Jones of Shirley/Jones Gallery in Yellow Springs, Ohio, Far, Near, Here comprises works from the collection of the Columbus Museum of Art that have not been exhibited in more than five years. This exhibition showcases seldom-seen works of art in a wide range of media, including drawing, painting, prints, photographs, glass, ceramics, fiber, small scale sculpture in bronze and stone, and even a palm leaf. While the works included hail from diverse locations and cultures: Prehistoric American, China, Japan, Korea, India, Fiji, New Guinea, and France, the bulk are American works from the modern and contemporary era. The exhibition seeks, among other things, to show how contemporary art shares affinities with and is often informed by, artifacts from foreign cultures.
For more information, please visit www.riffegallery.org.