Columbus Museum of Art (CMA) is undergoing a beautification initiative called Creative Campus. The project encompasses our whole neighborhood, which includes Columbus College of Art & Design (CCAD), State Auto, Columbus State Community College and more. As a City of Columbus public service project, Creative Campus will provide necessary upgrades to the streets, sidewalks, and aesthetic elements in our neighborhood.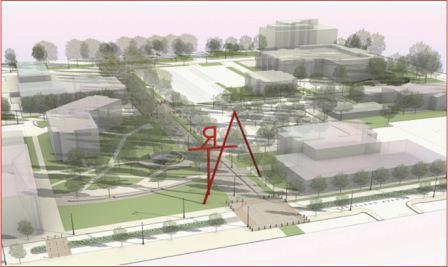 In the long term, that means adding more trees, benches, lighting, and improved pedestrian safety. Creative Campus project includes:
preserving and adding more trees
repairing sidewalks
adding crosswalks where people naturally cross
adding a median on Cleveland Avenue
adding raised intersections at Gay and Cleveland, Gay and Ninth, and Gay and Washington
adding benches, chairs, and more street lighting
Enter the CMA parking lot from East Gay Street). Parking in the Museum's lot is a flat $5 rate with payment taken at the admissions desk. CMA members and visitors to the Museum Store enjoy free parking. Just bring your Museum ID or receipt to the admissions desk.