Welcome back.
Click here
to view our reopening plan and guidelines.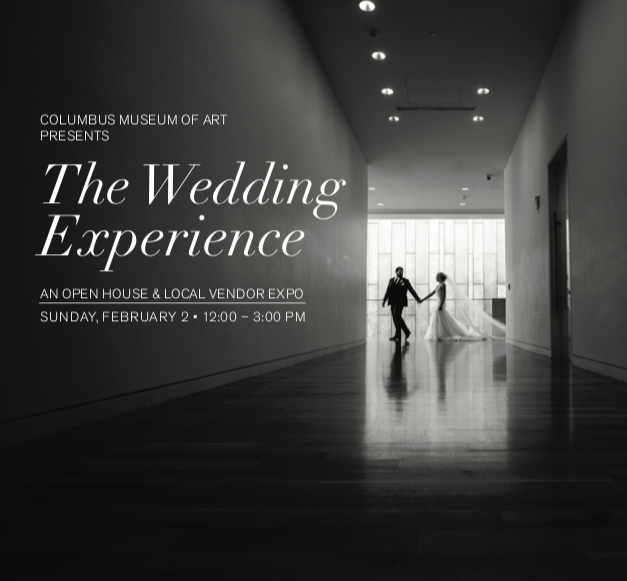 Join us for an artful afternoon at the Columbus Museum of Art for the ultimate wedding planning experience.Mingle with local wedding specialists in planning, floral design, photography, musical entertainment, and more! Enjoy samples from CMA's catering menu, tour our spaces, plus connect with our event professionals to discuss hosting your big day at CMA!
Meet the Chef
Talk with CMA Executive Chef, Laura Richmond who will be available to answer questions regardingour in-house catering
Connect with the Team
Meet the CMA event team to discuss availability, pricing, and engage with our professionals who will make your day worry-free and unforgettable
Experience the Space
Tour our bridal suites and experience the beauty and flexibility of our venue. We want to make your vision come to life at CMA!
For more information or inquiries, please contact Olivia Karp at 614.629.0325 or olivia.karp@cmaohio.org.
Top photo by: The Beards Photography
Vendors Include
Photographers: Style & Story, Derk's Works Photography
Specialty Beverages: Vintage Wines, Middle West Spirits, Simple Times
Florists: Rose Bredl Flowers & Garden, Botanica Flowers
Planners and Designers: The Finer Things Event Planning, MMJ Events, Brian Coovert Floral Design, Aisle & Co
Hotels: The Westin, Great Southern Columbus, Hilton Downtown
Invitation: On Paper
Music and Entertainment: Conspiracy Band, Night Music DJ Professionals, Columbus Musicians, LLC, Fizzy Cat Photo Booth
Rentals: Aiden & Grace Specialty Rentals, All Occasions, Event Source