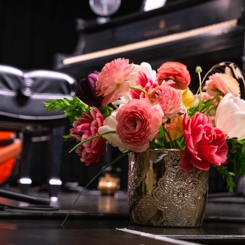 My Funny Valentine with the Tony Hagood Quintet
February 11, 2024
2:00–4:00 PM
Location: CMA
The Tony Hagood Quintet will share a concert of love songs leading up to Valentine's Day. There will be many familiar crooner standards such as My Funny Valentine, At Last, But Beautiful, Unforgettable, as well as some more upbeat romantic songs to celebrate the holiday like L-O-V-E, Fly Me to the Moon, There is No Greater Love, Cheek to Cheek, and much more!
Treat your special someone to a romantic afternoon at the museum by joining us for this concert.
Tickets are $20 for members, $25 for non-members in advance, and $30 for everyone at the door.