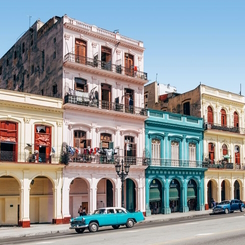 My Soul Touched the Waters Screening and Panel
November 30, 2023
6:00–7:30 PM
Location: CMA
The documentary My Soul Touched the Waters is a visually stunning and thought-provoking film that captures the transformative impact of a cultural exchange trip taken by a group of Ohio residents and artists to Cuba. Through breathtaking footage and intimate interviews, the film explores the profound ways in which the trip enriched the lives of travelers and deepened their understanding of Cuban culture.
From vibrant street art to sultry salsa dancing, My Soul Touched the Waters showcases the many facets of Cuba's rich artistic and cultural heritage, as well as the challenges facing the country today. Through the eyes of the Ohio travelers, we witness the warmth and hospitality of the Cuban people, as well as the complexities of daily life under a socialist regime.
Ultimately, My Soul Touched the Waters is a celebration of the power of cultural exchange to bridge divides and foster understanding between people from vastly different backgrounds. Whether you're a seasoned traveler or a curious armchair explorer, this documentary is a must-see for anyone interested in the transformative potential of cross-cultural interactions.
Registration for the film is free. Running time is 30 minutes, with an opening reception and closing panel discussion. Councilmember Lourdes Barroso de Padilla will lead the panel with guest panelists Sierra Leona, Writer, Poet and Governors Award Winner; Jen Murillo, Photographer; Donald Islom, Lecturer of Dance, OSU; April Sunami, Mixed Media Artist; and Krystopher Scott, Director.