Wearing a mask at the Museum is optional.
Click here
for more information on visiting.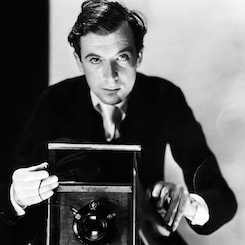 2019 Kleibacker Film Festival: Love, Cecil
August 15, 2019
6:00 PM
The 2019 eighth annual Charles Kleibacker Film Festival celebrates the legacy of a style icon with a weekend of free films honoring all things fashion. Today's film: Love, Cecil. Oscar®-winning set and costume designer, photographer, writer, and painter Cecil Beaton was a dazzling chronicler and an arbiter of his time. From the front lines of war to the pages of Vogue, Beaton embodied the cultural and political changes of the twentieth century. In this tender portrait, director Lisa Immordino Vreeland blends archival footage and photographs with voice over of Beaton's famed diaries to capture his legacy. Please note that all films are recommended for adult audiences, and limited seating is available. To guarantee a seat, please make a reservation early.