Wearing a mask at the Museum is optional.
Click here
for more information on visiting.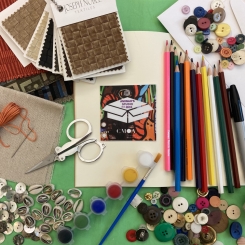 Aminah Studio in a Box Workshop
February 9, 2021
4:00 PM - 5:00 PM
Location: Online
CMA's virtual Studio Workshops are an enriching and joyful way to support creative thinking skills and social connections. As a supplement to remote learning, part of a school-at-home curriculum, or a way to engage and play together as a family, our weekly, 40 minute online sessions are a great way to connect and inspire. Each week, CMA's artist educators or Art In The House Teaching Artists kick-start our imaginations with a prompt designed to be open and flexible for a wide range of ages, abilities and materials. Through a series of experiments and wonderings, students will have ample opportunity to talk, make and PLAY together. Use the supplies you have at home or add a Studio in Box and have supplies shipped directly to your home.
Megan Green.