The Museum is closing early Thursday, September 29, at 3:00 PM for our annual gala.
Click here
for more information on visiting and to reserve a ticket.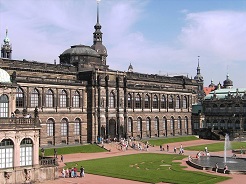 Armchair Art Escape: Dresden
March 24, 2021
1:00 PM
Location: Online
Join Dresden's Old Master Gallery's Executive Director Stephan Koja and Curator of Italian Painting Alexander Röstel as they discuss important works from the Dresden museum's collections. The talk, which will come to us from one of their galleries, will focus especially on Raphael. Mr. Koja chose Raphael to highlight the Dresden Tapestry exhibition, a partnership between Columbus and Dresden. CMA will host the tapestry exhibition next year.
Tickets