We believe it is our responsibility to support the City of Columbus' mask mandate, and to provide as safe an experience as possible for our visitors. We ask all Museum visitors to respect the mandate and each other, and please wear a mask.
Click here
for more information on visiting and to reserve a ticket.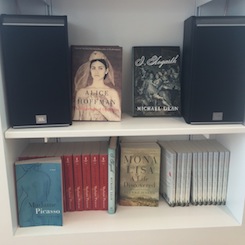 Art Book Club: Mad Enchantment
September 16, 2018
2:00 PM
Join Nannette Maciejunes for a discussion of Mad Enchantment: Claude Monet and the Painting of Water Lilies by Ross King. Mad Enchantment tells the full story behind the creation of the Water Lilies, as the horrors of World War I came ever closer to Paris and Giverny and a new generation of younger artists, led by Henri Matisse and Pablo Picasso, were challenging the achievements of Impressionism. Every Art Book Club includes a conversation with Nannette about the book. ABC selections are available in the Museum Store. Cost of the program is $5 for nonmembers, and free for CMA members. To register, please call 614.629.0359.