The Museum is closing early Thursday, September 29, at 3:00 PM for our annual gala.
Click here
for more information on visiting and to reserve a ticket.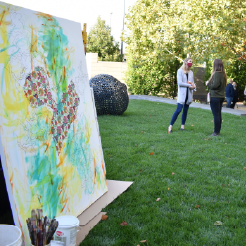 Art in Bloom Preview at BAM Thursday
April 22, 2021
5:00 PM - 9:00 PM
Location: CMA
Kick-off Art in Bloom at BAM (Bar-Art-Music) Thursday in the garden. Toast the floral designers and be the first to see the amazing floral installations and pedestal designs. Cash bar, floral fashions, music, live artist, and more. Tickets not required, but space may be limited due to Covid guidelines. Reservations are available for $25 and will include a signature cocktail as well as a donation to support Art in Bloom.
Tickets