Wearing a mask at the Museum is optional.
Click here
for more information on visiting.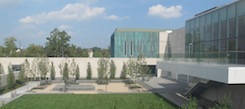 Art Museum Day
May 21, 2017
10:00 AM - 5:00 PM
CMA celebrates our eighth annual Art Museum Day on May 21. Each year, we join the International Council of Museums, the American Association of Museum Directors, and more than 180 museums across the world in raising awareness about the important role museums play in our society. Art Museum Day is a reminder that museums are living institutions that help create bonds between visitors, generations, and cultures around the world. Visitors enjoy free general admission, and are encouraged to share their experiences at CMA on social media using #ArtMuseumDay.