Wearing a mask at the Museum is optional.
Click here
for more information on visiting.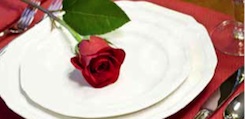 SOLDOUT: Art of Cuisine: My Fashionable Valentine
February 14, 2017
6:30 PM - 9:00 PM
Join Sarah Rogers, curator of Bodies @ Work: The Art of Ruben and Isabel Toledo, and the Cameron Mitchell Premier Events team at Schokko Art Café for a Valentine's Day dinner party inspired by creative duo Ruben and Isabel Toledo. Guests will be treated to a tasting menu paired with anecdotes revealing the unique collaboration between fashion designer Isabel and artist Ruben, followed by a private tour of the exhibition. Cash bar with creative cocktails will be available. Space is limited, advance reservations are required. Tickets are $105 for nonmembers and $95 for CMA members. Tickets go on sale January 9. Please call 614.629.0328 for more information or to make a reservation.