Wearing a mask at the Museum is optional.
Click here
for more information on visiting.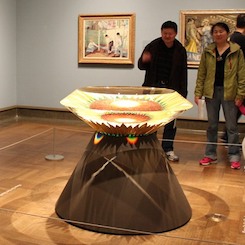 Artist Talk Christopher Ries, Sculptor in Glass at CMA
November 3, 2019
2:00 PM
Noted artist Christopher Ries speaks about his glass sculpture, including the extraordinary Sunflower, a monumental work currently on view in Gallery 2. Ries grew up on a farm near Columbus and studied ceramics at Ohio State. He composes light through the medium of glass by sculpting monolithic forms from giant blocks of optic crystal. His elegant polished forms reflect internally, then transmit evocative abstract compositions, which appear as pure apparitions of light. Presented in partnership with Hawk Galleries, this program is free, no registration requested.