The Museum is closing early Thursday, September 29, at 3:00 PM for our annual gala.
Click here
for more information on visiting and to reserve a ticket.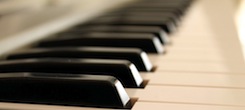 Jazz Master Sessions: Richard Lopez Presents Ryan Hamilton and Vaughn Wiester: Trombone Double Trouble!
March 4, 2018
3:00 PM
This series of jazz performances features the best of traditional and contemporary jazz offerings with area master musicians. This performance features two of Columbus's finest horn players in the music of J.J. Johnson and Kai Winding and other famous two trombone collaborations. Doug Richeson, Jim Rupp and Richard Lopez will back up these great players.
Tickets
are $20 for adults, $15 for seniors, and $7 for students. CMA members receive $2 off each individual ticket. For more information, please call 614.629.0312.