Wearing a mask at the Museum is optional.
Click here
for more information on visiting.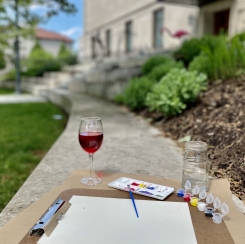 Bizarre Landscapes
June 17, 2021
6:00 - 8:00 PM
Location: CMA
Guests from the Ohio Plein Air Society will offer tips and tricks of the art of plein air painting. Tickets are $65 per person and include your watercolor supplies and painting fuel (wine and snacks!).
What sets this outdoor painting experience apart is our special guest making an appearance in the gardens of the museum. Wait and see!