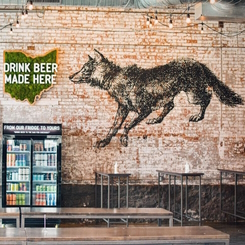 Brewing Hope Series Happy Hour
September 26, 2023
3:00–6:00 PM
Columbus Museum of Art has been selected as the September Non-Profit Partner for the Brewing Hope Series at Wolf's Ridge Brewing!
In this partnership, Wolf's Ridge Brewing has selected Gold Standard Lager at the WRB Taproom as the designated Charity Beer of the Month. At the end of September, they will tally the total pint sales of Gold Standard Lager and donate $1 per pint to the Museum!
In addition to this month long partnership, we will be hosting a happy hour at the WRB Taproom on September 26, from 3:00–6:00 PM.
Can't make it?
Stop in all September long to support the Museum and Wolf's Ridge Brewing.
More about the Brewing Hope Series at Wolf's Ridge Brewing
"As we approach our tenth year in operation, we realize local businesses only get as far as their community will take them - so it only makes sense to us, that local businesses should reciprocate that support, in hopes that growth and success for one, will mean growth and success for all.
With this idea in mind, we created our new Brewing Hope Series - a year-long program that is aimed at highlighting a Local Non-Profit Organization each month, with the goal of raising awareness, funds, and spirits throughout our community."