Wearing a mask at the Museum is optional.
Click here
for more information on visiting.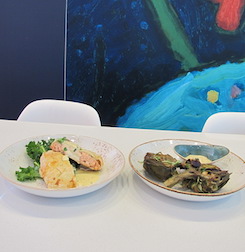 Cafe Pop Up: Blossoms
June 20, 2019
5:00 PM - 9:00 PM
Join us in Schokko Cafe the third Thursday of every month for themed Pop up dinners. The theme for June is Blossoms, featuring menu items including goat cheese stuffed squash blossom with spicy marinara ($10), grilled artichoke ($8), salmon en croute with asparagus and lavender infused cream sauce ($12), and dandelion fritters with roasted garlic ($8).