Wearing a mask at the Museum is optional.
Click here
for more information on visiting.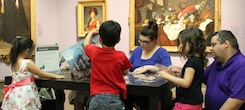 Caregiver Conversation Series Conversation 2: Working through Grief
February 4, 2017
1:00 PM -2:30 PM
The Caregiver Conversation Series includes group discussions and workshops for parents, families, and early childhood professionals around complex topics focusing on young children. It is a partnership with Columbus State Community College Program of Early Childhood Development and Education. Each session focuses on providing support, information, and a sense of community around the given topic. In February, Jenny Campagna, Licensed Professional Clinical Counselor and SoulCollage® facilitator, focuses on supporting children as they grieve. Grief can be disorienting and often follows an unpredictable timeline. The process of SoulCollage® can be used at any point in the grieving process to honor loved ones and invite children to safely express the complexities of grief. Caregiver Conversations are intended for adults but children are welcome at your discretion. Cost is $5 per adult.