As of March 7, the City of Columbus and Franklin County have lifted their mask mandates. Wearing a mask at the Museum is now optional.
Click here
for more information on visiting and to reserve a ticket.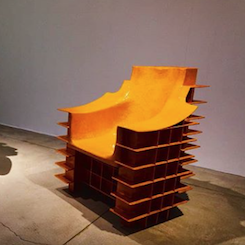 Chris Schanck Artist Talk
January 17, 2019
6:00 PM - 7:00 PM
Please join us for a discussion with designer Chris Schanck. "In every piece I try to fight a sense of good taste," says Chris Schanck. "Imperfection is the standard." His designs, each one unique, are made in a workshop in Detroit by a collective of skilled makers, including women from the immigrant Bangladeshi community. Though made entirely of inexpensive materials, Schanck's work achieves an effect of uncommon luxury. The effect hovers somewhere between historical references (like Aztec gold work and Art Deco architecture) and futurist science fiction. Schanck's work can currently be seen in the exhibition
When Attitudes Become Chairs
, on view now at Pizzuti Collection of the Columbus Museum of Art.
Register here
for this free talk, which takes place at Pizzuti Collection of the Columbus Museum of Art.