Wearing a mask at the Museum is optional.
Click here
for more information on visiting.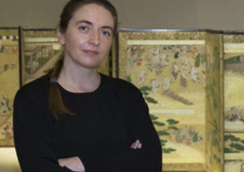 Collecting Japanese Art Lecture with Sinéad Vilbar Curator of Japanese Art, Cleveland Museum of Art
June 7, 2018
6:30 PM
The Cleveland Museum of Art has been collecting important works of Japanese art since its opening in 1916. While there have been a number of notable donations of works, the collection strategy of the Museum has largely been one of curators and directors guiding the museum to make important acquisitions. Dr. Vilbar will explore this collection strategy, highlighting the impact of former director Sherman Lee (1918-2008) and patrons like Mr. and Mrs. Kelvin Smith. Sinéad Vilbar is the Curator of Japanese Art at the Cleveland Museum of Art, and has been with the museum since 2014. She received her Ph.D. from Princeton University in 2012. Her current research focuses on the art of Buddhism and kami veneration, or Shinto. Free admission. A reception will follow the lecture. Registration recommended, but not required. For more information and to register, visit
Japan America Society of Central Ohio.
["Festival Scenes" Japan, Edo period (1615-1868) 17th Century From The Kelvin Smith Collection, given by Mrs. Kelvin Smith 1985.279, Photo © Cleveland Museum of Art]