The Museum is closing early Thursday, September 29, at 3:00 PM for our annual gala.
Click here
for more information on visiting and to reserve a ticket.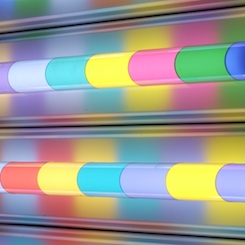 Community Celebration for LIGHT
March 24, 2019
12:00 PM - 5:00 PM
The community is invited to celebrate the exhibition LIGHT at Pizzuti Collection of the Columbus Museum of Art, located at 632 North Park Street in the Short North. The exhibition features artwork that takes light as its muse and its material. In addition to free admission, visitors will enjoy exhibition tours and family-friendly activities.
[Image: Spencer Finch, Sunset South Texas (detail), 2003.Collection of Ronald A. and Ann L. Pizzuti]