Wearing a mask at the Museum is optional.
Click here
for more information on visiting.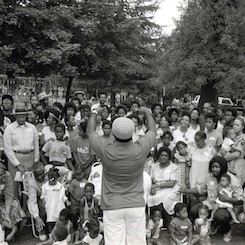 Community Conversation on Family
February 14, 2018
3:00 PM - 5:00 PM
How do you define family? What are family values? Who determines what makes a family? What are the structures that challenge these new notions of family units today? These are the questions we'll explore as part of a community conversation on family inspired by the Columbus Foundation's Big Table conversations, which bring people together to talk, listen, and learn from one another. The conversation coincides with CMA's upcoming exhibition
Family Pictures
, exploring the ways in which black photographers and artists have portrayed a range of familial relationships that often challenge traditional representations. The artists explore forms of intimacy and connection, love, empathy, kindness, trust, and vulnerability. The afternoon will conclude with an optional preview of the exhibition with artist John Edmonds. CMA is where creativity and the daily life of our community intersect and thrive, as we champion new and different ways of thinking and doing. Partners for this conversation include Creative Control Fest, Ethiopian Tewawhedo Social Services, Black, Out and Proud,
Equitas Health, and
Documentary photographer Tariq Tarey. This program is free and open to the public. Registration is requested as space is limited. To participate in this community conversation please
register here.