Wearing a mask at the Museum is optional.
Click here
for more information on visiting.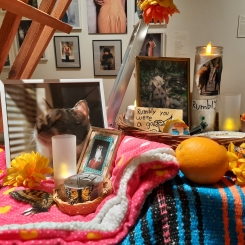 Community Conversation on Grief
October 27, 2022
6:00–8:00 PM
Location: CMA
Join CMA and community partners in an honest and meaningful conversation about grief, loss, healing, and the origins of Día de los Muertos. Guests are welcome to bring an object or photo to add to the community ofrenda to honor their lost loved ones. This event is free and open to the public. Space is limited, registration is requested.
This year's community partners will offer participants a guided practice or conversation to support the grief process. Featuring Lori Guth, Georgia Rauch, Annette Reyes, Tyiesha Radford Shorts, and Renee Zamora.