Wearing a mask at the Museum is optional.
Click here
for more information on visiting.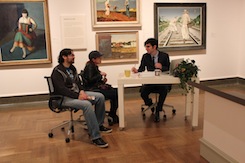 Connector 47 with Alternative Fashion Mob
March 11, 2017
1:00 PM - 4:00 PM
Alternative Fashion Mob is a collection of fashion designers, industry professionals, and couture enthusiasts who are dedicated to furthering the fashion industry in Columbus. They invite all members of our community – especially the fashion-forward, creatively focused, and community- minded – to participate as they showcase, nurture, and enjoy local design talent. CMA's Center for Creativity partners with some of the most provocative, creative people in our community to present intriguing, memorable experiences for visitors. Come for unexpected encounters with local artists and performers, creative exploration, and fun. The Connector Series experiences are designed for visitors of any age and are included with regular museum admission.