Wearing a mask at the Museum is optional.
Click here
for more information on visiting.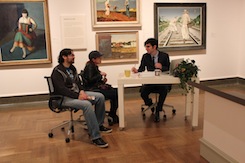 Connector Series with Artist Henry Hess
December 10, 2016
1:00 PM - 4:00 PM
Teenaged artist Henry Hess has made quite a splash in the Columbus art scene in the past couple of years. His drawings and paper sculptures, often depicting familiar movie scenes, have been seen at 400 West Rich and local exhibitions. Learn about his process and try out some character creation of your own. CMA's JPMorgan Chase Center for Creativity partners with some of the most provocative, creative people in our community to present intriguing, memorable experiences for visitors. Come for unexpected encounters with local artists and performers, creative exploration, and fun. The Connector Series experiences are designed for visitors of any age and are included with regular admission.