Wearing a mask at the Museum is optional.
Click here
for more information on visiting.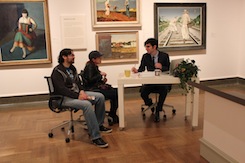 Connector Series with Celeste Malvar-Stewart
January 14, 2017
1:00 PM - 4:00 PM
Celeste Malvar-Stewart is a couture fashion designer who works solely with sustainable materials. She uses wool from an Ohio sheep farm and plant-based dyes to create completely biodegradable clothing. She also recycles materials in collections like DeconSTRUCTURE, in which she combines unraveled and distressed denim with her hand-felted local wool. CMA's JPMorgan Chase Center for Creativity partners with some of the most provocative, creative people in our community to present intriguing, memorable experiences for visitors. Come for unexpected encounters with local artists and performers, creative exploration, and fun. The Connector Series experiences are designed for visitors of any age and are included with regular museum admission.