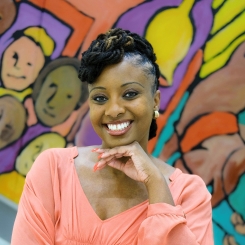 Conversation and Book Release with Dr. Treva B. Lindsey
April 7, 2022
6:30–8:00 PM
Location: CMA & Online
Award-winning Black feminist historian and author Treva B. Lindsey will join Carnegie Medal for Excellence poet, essayist, and cultural critic Hanif Abdurraqib to talk about her latest book, America, Goddam: Violence, Black Women, and the Struggle for Justice.
This conversation will focus on the combined force of anti-Blackness, misogyny, patriarchy, and capitalism in the lives of Black women and girls in the United States, through an in-depth exchange between these Columbus-based authors. There will be performances by Columbus poets Tyiesha Radford Shorts and Tiffany Musa, and a Q&A. A book-signing will follow the program.
This program is a hybrid experience with an in-person talk and a virtual Zoom session. Check back to this page to tune-in to the virtual experience on the event date. Cost of the program is $5 for in person and includes Museum admission, the virtual session is free.