Wearing a mask at the Museum is optional.
Click here
for more information on visiting.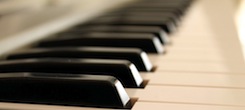 "Cosmic Thoughts" Premiere
October 21, 2017
3:00 PM
Celebrate the live premiere of a local composer's scenic writings about constellations, "Cosmic Thoughts," a modern interpretation on the striking symbols of the night sky inspired by Kitt Peak's National Observatory in Arizona. Written as a four-part chamber arrangement, "Cosmic Thoughts" transports the listener to a journey through our ever-changing night skies. Kristen Peters, composer of "Cosmic Thoughts," is a Columbus native who has been playing violin for more than 20 years and currently plays with local musicians while finishing her first solo album, which is set to be released in early 2018.
Tickets
for the premiere are $20 for adults, $15 for seniors, and $7 for students. CMA members receive $2 off each individual ticket. Tickets also available at the admissions desk. Please call 614.629.0359 for more information.