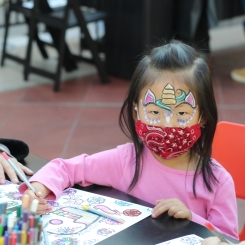 Día de los Muertos Community Celebration
November 5, 2022
5:30–8:30 PM
Location: CMA
Celebrate and learn about the rich history of Día de los Muertos with activities by artists including a community ofrenda created by Renee Zamora, live painting by Cat Ramos, Tarot readings by Carolyn Encarnacion, art-activities, vendors, dancing and live music from Al Son del Iya, craft cocktails & tasty bites available from Casa Mezcal Mexican Grill.
Shop from artist vendors: Luna y Tierra, Jardin Secreto, Abril Andrade Art, Pajaro Negro, Proyecto Mariposas, Flower day-ze, Mexa Collections, Ethe.real, Goodies By Grace, Carol Isabel Art.
Cost of the program is $10 for nonmembers, $5 for members, children 3 and under are free.