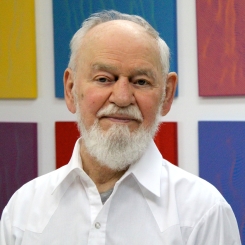 Documentary Film: Julian Stanczak. To Catch the Light
April 13, 2023
6:00–8:00 PM
Location: CMA
Experience the momentous and sensational life of abstract painter, Julian Stanczak (1928-2017). A pioneering artist whose 1964 exhibition Optical Paintings prompted Time magazine to coin the term Op Art.
In this new Polish documentary, eight years in the making, discover Stanczak's remarkable life and his triumph over adversity. Born in Poland shortly before WWII, Stanczak traveled from Poland to Siberia, where, while in a Soviet gulag, he lost the use of his right arm. The artist then migrates to Iran, Uganda, and the UK before finally settling in the U.S. in 1950 where he eventually taught at the Cleveland Institute of Art for over three decades. Discover Stanczak's story as it is recounted in previously unseen interviews with the artist. The film is presented in a blend of spoken English and Polish with English subtitles and runs approximately 60 minutes.
Immediately following the screening will be a brief conversation featuring Barbara Stanczak and Neil Rector. Tickets are $5 for members and $8 for nonmembers.