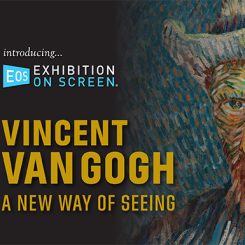 Exhibition on Screen: Van Gogh: A New Way of Seeing
February 17, 2022
7:00–8:30 PM
Location: CMA
RESCHEDULED from February 3
Directed by David Bickerstaff
Runtime 90 minutes
You've never seen Van Gogh like this before—dive into the fascinating, and sometimes troublesome, life of one of the world's most notorious painters in this award-winning documentary.
Perhaps more than any other artist, Van Gogh's life has long captured the imagination of storytellers. Delving deep into his fascinating and sometimes deeply troubled world comes this definitive, award-winning documentary directed by David Bickerstaff. Showcasing Van Gogh's iconic works like never before and featuring exclusive interviews with the curatorial team at the Van Gogh Museum.
Tickets are $12 for members and $15 for nonmembers. Exhibition on Screen is presented in partnership with McConnell Arts Center, Gateway Film Center, and Columbus Museum of Art.