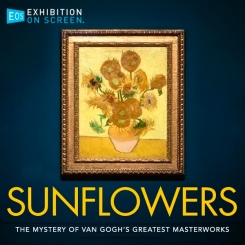 Exhibition on Screen: Sunflowers
January 6, 2022
7:00–8:30 PM
Location: CMA
Directed by David Bickerstaff
Runtime 85 Minutes
See five of Van Gogh's most delicate and iconic Sunflower paintings as you'll never be able to again—in one place—thanks to this virtual exhibit.
A unique opportunity to see, as never before, this series of spectacular paintings. Vincent van Gogh's Sunflowers are among his most famous works, and are some of the most iconic paintings in the world. In an extraordinary exhibition, the Van Gogh Museum took a new and revealing look at the five publicly-owned versions of sunflowers in a vase. This film goes beyond the surface to explore the many questions and mysteries that surround these works. All is revealed in this fascinating film, which travelled beyond Amsterdam to Tokyo, Philadelphia, London and Munich to film, in incredible high-definition detail. Tickets are $12 for members and $15 for nonmembers.