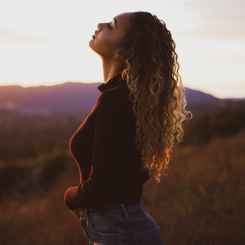 Exploring Love, Lust, & Libido
February 9, 2023
7:00–8:30 PM
Location: CMA
This event has SOLD OUT!
SPARK your curiosity with a fun ladies' night out at CMA for this women-only workshop exploring the complexities of female sexual desire, arousal, and pleasure. Led by relationship and sexuality expert Dr. Meghna Mahambrey, you'll discover creative tools and techniques to ignite your libido. Single and partnered women welcome!
Registration also includes general admission to CMA galleries, and one drink ticket redeemable at Schokko Café that night. Tickets are $28 for members and $30 for non-members.
Female sexuality is uniquely complex and compelling. At times, we feel naturally beautiful, sensual, and crave physical intimacy. Other times, we are repulsed by our partner's hand accidentally grazing our knee because all we want to do is eat pasta and watch Grey's Anatomy reruns. If this sounds familiar, you're not alone. This is a universal dilemma for millions of women around the world. Want to know why, and what you can do about it? Join us for a special workshop "Love, Lust, & Libido" designed exclusively for females regardless of relationship status. Hosted by SPARK Relationship + Sexual Wellness in collaboration with Columbus Museum of Art, relationship and sexuality expert Dr. Meghna Mahambrey will explore in-depth insight, cutting-edge research, and practical advice on:
• Differences between sexual desire, arousal, and pleasure
• Trajectory of female sex drive in long-term relationships
• Physical health considerations
• Mental and emotional turn-ons vs. turn-offs
• Relationship factors that influence desire
• Popular fantasies, techniques, and language among women
• Helpful conversations to have with your current or future partner
• Creative strategies to re-ignite passion in long-term relationships
Single, dating, engaged, married, and divorced women across all ages and stages of life are all welcome. Come solo or invite some friends for a ladies night out. This is a purely educational and entertaining event, intended to respect the comfort and privacy of all attendees, with absolutely no participation required. Schokko Café will be open if you'd like to grab food and drinks to enjoy during the workshop.