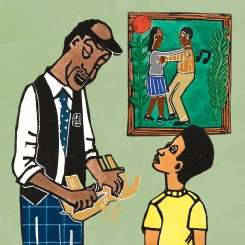 Family Book Event: You Gotta Meet Mr. Pierce!
February 25, 2023
11:00 AM–2:00 PM
Location: CMA
Join CMA as we celebrate beloved Columbus artist, Elijah Pierce, by highlighting a new children's book written by local authors Chiquita Mullins Lee and Carmella Van Vleet. This event will feature a live reading, author meet-and-greet, and a woodblock printing activity inspired by book illustrator Jennifer Mack-Watkins.
The program is drop-in and included in general admission. No registration is required.