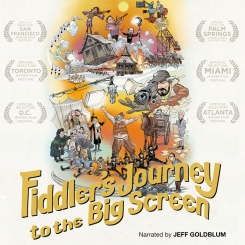 Fiddler's Journey to the Big Screen: Film Screening, Discussion and Reception
November 13, 2022
6:30–8:30 PM
Location: CMA
Fiddler's Journey to the Big Screen
Directed by Daniel Raim, Documentary, USA, 2022, 88 minutes
Presented by CMA Friends of Jewish Art, Columbus Jewish Film Festival, and Congregation Tifereth Israel
Fall of 2021 marked the 50th anniversary of Fiddler on the Roof, the film Pauline Kael (The New Yorker) called "the most powerful movie musical ever made." Narrated by Jeff Goldblum, Fiddler's Journey to the Big Screen, captures the humor and drama of director Norman Jewison's quest to re-envision the beloved stage hit as a wide-screen epic. At its heart, this delightful documentary becomes an exploration of how the experience of making Fiddler deepens Jewison as an artist and revives his soul. Daniel Raim puts us in the director's chair, drawing on a ton of behind-the-scenes footage and never-before-seen stills, as well as original interviews with Jewison, star Chaim Topol, Academy Award-winning composer John Williams, lyricist Sheldon Harnick, and the actresses who played Tevye's daughters, Rosalind Harris, Michele Marsh, and Neva Small. This insider account captures the triumphs and trials of the creative process, and Fiddler's unparalleled impact as a culture force.
Post screening discussion with Neva Small (Chava, in the 1971 Fiddler on the Roof) with reception to follow
Tickets are $25.