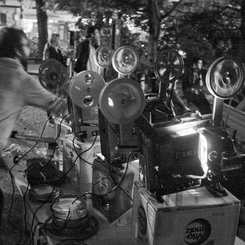 Film Performance with Roger Beebe: Lineage (for Norman McLaren)
August 3, 2023
4:00–7:00 PM
Location: CMA
Come experience this unique loop-based film performance bringing together multiple loops to explore image, sound, and texture, presented for only the second time, by Columbus artist, Roger Beebe.
The entire performance will run over the course of three hours, and visitors are welcome to enter and exit at any point during the performance. Admission to the performance is free, no registration required.
Lineage is a loop-based film performance for four 16mm projectors. Using as a point of departure Norman McLaren's abstract animations in Lines Horizontal as well as reworked footage from two documentary portraits of McLaren, the film explores the ways in which abstract marks made in a variety of ways—laser printing and etching, contact printing and hand-processing—result in strange and surprising sounds. Those sounds and images are arranged into movements that range from a Steve Reich-influenced layered linguistic composition to drones to aggressive glissandos rendered in the alien electronic timbre of the abstract optical track.
Roger Beebe is a filmmaker whose work since 2006 consists primarily of multiple-projector performances and essayistic videos that explore the world of found images and the "found" landscapes of late capitalism. He is currently a Professor at the Ohio State University, where he has a joint appointment in the Departments of Art and Theatre, Film, and Media Arts. His work Countdown Composition 1 (Simple Symphony) is on view at the Pizzuti Collection of Columbus Museum of Art as part of Greater Columbus: The 2023 Greater Columbus Arts Council Visual Arts Awards Exhibition through August 6.