Wearing a mask at the Museum is optional.
Click here
for more information on visiting.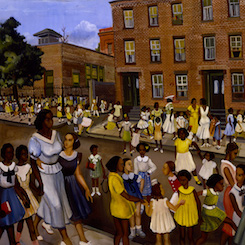 Harlem Renaissance Community Day
October 28, 2018
10:00 AM - 5:00 PM
The entire community is invited for a fun, free day of art exploration at CMA. Bring family and friends and celebrate the legacy of the Harlem Renaissance. At 1:00 PM, head to the Studio for a make-and-take activity inspired by the exhibition I, Too, Sing America. At 2:00 PM, enjoy a concert by the Denison University Gospel Choir. Initiate a conversation with one of CMA's Roaming Docents from 12:00 PM-2:00 PM in the companion exhibition Looking for Langston. Join a gallery conversation in the I, Too, Sing America exhibition at 11:00 AM or 3:00 PM with Theresa Leininger Miller of the University of Cincinnati. All are welcome, no registration requested. Funding for Community Day made possible by PNC Arts Alive.