Wearing a mask at the Museum is optional.
Click here
for more information on visiting.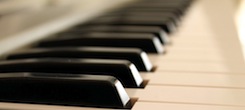 Harpsichord Gallery Concert: Power, Piety and Prestige in 17th-Century Europe
October 13, 2017
7:00 PM
Please join us for an intimate harpsichord concert in Gallery 10 with Kevin Jones, organist and minister of music at 1st Congregational Church. Mr. Jones' program will involve the keyboard works of Jan Pieterszoon Sweelinck, Dutch composer and organist. Mr. Jones has served as an Associate Artist and Assistant Chorus Master with Cleveland Opera as well as a staff pianist at both the Cleveland Institute of Music and the Oberlin Conservatory of Music. From 2007-2012, he was Canon Precentor and Director of Music at Christ Church Cathedral, Hartford, Connecticut, as well as being a member of the vocal division faculty at the Hartt School. Following the concert Mr. Jones and CMA Chief Curator David Stark lead a conversation about the concert and the collection at a post-concert reception. Tickets are $35 for members, and $40 for nonmembers.
Tickets.