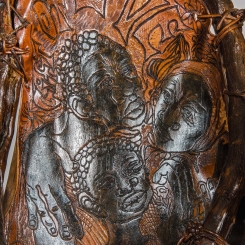 Hogmawg: Making Home Together
June 26, 2022
2:00–4:00 PM
Location: Online
VIRTUAL talk with Darla Migan and our Aminah Robinson Scholar in Residence, Terrance Dean
In this art talk on Aminah Brenda Lynn Robinson, Dr. Migan thinks through the material uses and conceptual arrangements of Hogmawg. The collective approach to making and the research undertaken by Aminah Robinson becomes an expansive lens through which we are asked to think carefully about how the traditions, from recipes to Ragtime music, are always expressions of both learned forms and unique inspiration. While Hogmawg specifically refers to the homemade materials useful to adhering the sculptural works in Aminah Robinson's practice, the term is also related to the history of Soul food, which is to say American foodways. Dr. Migan reminds us of the sustenance of Hogmawg and how it feeds us all. It has been inherited by and passed along from African descended peoples who have made delicacies appear from nothing at all.
Bio
Darla Migan, Ph.D. is a philosopher and art critic working in New York City. Dr. Migan earned her Ph.D. in Philosophy from Vanderbilt University. As a Black woman raised in Atlanta, Georgia and graduate of Oberlin College in Lorain County, Ohio, she remains committed to thinking about how theories of culture and strategies of artistic making may potentially motivate the formation of justice seeking communities. Dr. Migan's critical engagement with the arts includes criticism on the socio-historical formation of artworlds. She has published reviews of exhibitions by Jacob Lawrence, Faith Ringgold, Akeem Smith, and Stacy Lynn Waddell. Dr. Migan is on the faculty of Parsons School of Design at The New School for Social Research, and, she is a 2021 grantee of The Andy Warhol Foundation Arts Writers Grant in Short-Form Writing.