Wearing a mask at the Museum is optional.
Click here
for more information on visiting.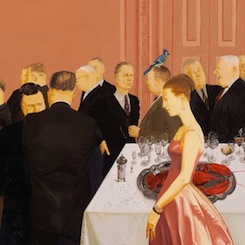 Honoré and The Women
April 29, 2017
2:00 PM
Enjoy an afternoon listening to excerpts of "The Women," by Claire Booth Luce; watching scenes from the 1939 movie starring Norma Shearer; and enjoying an informal discussion with M. Melissa Wolfe, Curator of American Art at the St. Louis Art Museum, and Director April Olt and Producer Sonda Staley of Tipping Point Theatre Company. This program is presented in conjunction with A Dangerous Woman: Subversion and Surrealism in the Art of Honoré Sharrer. Cost of the program is $25 for nonmembers (includes general and special exhibition admission) and $10 for members.