Wearing a mask at the Museum is optional.
Click here
for more information on visiting.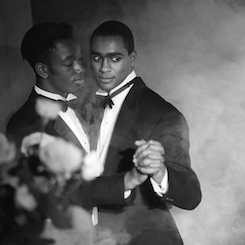 Isaac Julien: Looking for Langston Tour
October 14, 2018
1:00 PM
Join CMA Curator of Contemporary Art Tyler Cann for a special in-gallery tour of the new exhibition Isaac Julien: Looking for Langston. In conjunction with I Too Sing America: The Harlem Renaissance at 100, this exhibition presents Isaac Julien's landmark 1989 film Looking for Langston alongside a selection of related photographic works. Made at the height of the AIDS epidemic in London and New York, Looking for Langston is composed of archival moving images and original footage that reimagines the life of poet Langston Hughes and a community of gay artists during the Harlem Renaissance. The Isaac Julien exhibition is part of the 2018 FotoFocus Biennial, a month-long celebration of photography and lens-based art held throughout the greater Cincinnati region.