The Museum is closing early Thursday, September 29, at 3:00 PM for our annual gala.
Click here
for more information on visiting and to reserve a ticket.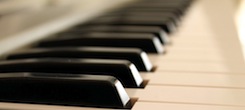 Jazz Masters Series Presented by Richard Lopez
February 2, 2020
3:00 PM - 5:00 PM
Location: CMA
This series of jazz performances features the best of traditional and contemporary jazz offerings with area master musicians. Join Richard in February for What the World Needs Now is Love! with Burt Bacharach, a concert showcasing the fabulous Burt Bacharach! Joining Richard are singer and keyboardist Dan Rowan and one of Columbus's favorite vocalists, Mary McClendon. Tickets are $20 for adults, $15 for seniors, and $7 for students. CMA members receive $2 off each individual ticket.