Wearing a mask at the Museum is optional.
Click here
for more information on visiting.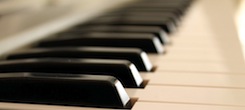 Jazz Masters Series Richard Lopez Presents A Piano Summit with Richard Lopez and Dave Powers!
March 3, 2019
3:00 PM - 5:00 PM
This series of jazz performances features the best of traditional and contemporary jazz offerings with area master musicians. Two of Columbus's favorite pianists will surprise and delight you as they jam on solo and duo pianos—joined by a swinging rhythm section! Tickets are $20 for adults, $15 for seniors, and $7 for students. CMA members receive $2 off each individual ticket. For more information, please call 614.629.0312.