The Museum is closing early Thursday, September 29, at 3:00 PM for our annual gala.
Click here
for more information on visiting and to reserve a ticket.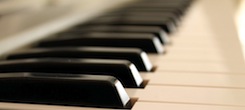 Jazz Masters Series Richard Lopez Presents The Blue Note Years: A Journey of Innovation — A Voyage of Discovery
April 7, 2019
3:00 PM - 5:00 PM
This series of jazz performances features the best of traditional and contemporary jazz offerings with area master musicians. As Blue Note celebrates its 80 Anniversary we will explore the groundbreaking recording company's excursion into be-bop, hard-bop and the modern jazz movements. Blue Note Records championed the careers of Horace Silver, Thelonious Monk, Clifford Brown, and Herbie Hancock to name a few. Tickets are $20 for adults, $15 for seniors, and $7 for students. CMA members receive $2 off each individual ticket. For more information, please call 614.629.0312.