Wearing a mask at the Museum is optional.
Click here
for more information on visiting.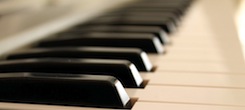 Jazz Masters Sessions – presented by Richard Lopez, Piano Jazz Times Two: Bobby Floyd and Richard Lopez
April 2, 2017
3:00 PM
This series of jazz performances features the best of traditional and contemporary jazz offerings with area master musicians. In April, the nationally-recognized and admired pianist Bobby Floyd will join Richard Lopez for a two-piano afternoon of amazing keyboard jazz. These two virtuoso players have collaborated in the past and established a great rapport, which they are excited to bring to the Jazz Master Session Concerts. It is rare to hear two jazz pianists improvise together, so Columbus audiences will certainly be in for a rare treat. Tickets are $20 for adults, $15 for seniors, and $7 for students. CMA members receive $2 off each individual ticket. Tickets available at the admission desk. Please call 614.629.0312 for more information.