Wearing a mask at the Museum is optional.
Click here
for more information on visiting.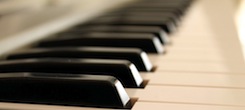 Jazz Masters Sessions – presented by Richard Lopez, Time Out: Time Music of Dave Brubeck
March 5, 2017
3:00 PM - 5:00 PM
This series of jazz performances features the best of traditional and contemporary jazz offerings with area master musicians. In March, explore the music of timeless innovator Dave Brubeck. His exciting excursions into exotic time signatures, classical influences have made him a favorite with audiences for many years.The program will feature Jazz Arts Group regulars, Byron Rooker on saxophone and Bob Breithaupt on drums. Doug Richeson will join the group with Richard Lopez in the role of Dave Brubeck. Don't miss this one! Tickets are $20 for adults, $15 for seniors, and $7 for students. CMA members receive $2 off each individual ticket. Tickets available at the admission desk. Please call 614.629.0312 for more information.