We believe it is our responsibility to support the City of Columbus' mask mandate, and to provide as safe an experience as possible for our visitors. We ask all Museum visitors to respect the mandate and each other, and please wear a mask.
Click here
for more information on visiting and to reserve a ticket.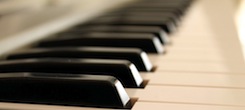 Jazz Masters Sessions Presented by Richard Lopez : Celebrating Nancy Wilson
October 6, 2019
3:00 PM
This series of jazz performances features the best of traditional and contemporary jazz offerings with area master musicians. Join Richard for our 2019/2020 series "A Season of Columbus Gold Standards" featuring a different home-town jazz favorite at every concert. The October kick-off concert celebrates hometown favorite Nancy Wilson featuring vocalist Cherie Mannino, saxophonist Bryan Olsheski, trumpeter Milo Mannino, and the Richard Lopez trio.
Tickets
are $20 for adults,$15 for seniors, and $7 for students. CMA members receive $2 off each individual ticket. Tickets are also available at the admission desk. Please call 614.629.0312 for more information.