As of March 7, the City of Columbus and Franklin County have lifted their mask mandates. Wearing a mask at the Museum is now optional.
Click here
for more information on visiting and to reserve a ticket.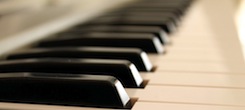 Jazz Masters Sessions Richard Lopez Presents Rhapsody in Gershwin!
April 1, 2018
3:00 PM
Famous jazz players and vocalists have always been drawn to the music of George Gershwin. Celebrate this great composer's compositions through jazz! Among featured artists will be vocalist Mary McClendon and saxophonist Randy Mather.
Tickets
are $20 for adults, $15 for seniors, and $7 for students. CMA members receive $2 off each individual ticket. For more information, please call 614.629.0312.